Today I'm teaming up with Trunk Club to bring you 4 ideas for holiday/winter outfits – perfect for every occasion! 
You may have seen me gush over my favorite styling service, Trunk Club a few times before, and I have to say the love grows more and more each day. If you are unfamiliar with the Nordstrom owned brand, Trunk Club is a personal styling service for men and women, perfect for anyone too busy to shop or those looking for help or advice from a stylist. You only pay for the pieces you keep. The only upfront cost is $25 styling fee, which is credited towards whatever you choose to keep and is waived if you have a Nordstrom credit or debit card. The advice and styling help all are free!
First, share your size, style, and fit preferences with your stylist who then handpicks a tailored selection of clothes according to your input. After the stylist puts together amazing looks, they will send a preview of the contents of the trunk, which you can then make edits to before sending. Try it all on in the comfort of your own home, keep what you love and easily ship back what you don't. I think one of my favorite aspects of the Trunk Club service is the easy, easy returns. I am such a bad returner, so it makes me feel much better knowing they can schedule a pick up to your house in a heartbeat. Your stylist is trained to understand fit challenges associated with different body types and know which brands are right for you. Plus, Trunk Club is a Nordstrom brand, so you know the inventory is on point!
It is not to be confused with a subscription service and there are no subscription fees + shipping is always free. You can choose when you want to get your Trunks – monthly, bi- monthly, quarterly, or on a specific date. You are always in control of when you receive a Trunk, and you will always see a preview of the Trunk before it ships. Plus, you can give feedback on their Trunk before it sends.
CLUBHOUSE VISIT:
I was so excited to meet my Trunk Club stylist, Carolyn IRL at a Clubhouse Visit recently. In case you didn't know, Trunk Club has six amazing club houses all over the US (Boston, Chicago, Dallas, DC, LA, and NYC) where you are able to have an in person styling sesh. Can I just say the LA Clubhouse is so unique and fun! Every time I arrive, Carolyn pulls an assortment of clothing based off what I'm feeling at the moment. Come in for anything from a Winter Wardrobe Refresh to a special trip – your stylist is at your service. I personally wanted several holiday seasonal looks for upcoming events, so bring on the sparkles. Additionally, you are able to shop all items at your Clubhouse styling session and the appointment is on your terms- spend 30 minutes or 2 hours with your stylist. It's up to you! You'll leave with amazing pieces and outfit suggestions from your stylist as well as on site alterations should you need to make adjustments.
OUTFIT IDEAS:
1 .Just Add Shine: Printed Dress & Suede Jacket
This dress is a perfect example of the holiday shine trend. I'm beyond obsessed with the print (Veronica Beard can do no wrong in my eyes) and it fits like a glove thanks to Carolyn's expertise! Jacket is optional but adds the finishing touch if you ask me.
2. Mix Textures: Velvet Trousers, Shiny Tank + Textured Jacket
Do NOT be afraid to mix textures this Holiday season! Go for velvet mixed with shine – I'm digging the cut of these Velvet trousers paired with the shiny tank and textured jacket to tie it all together. Plus, each of these pieces will stand alone to create outfits with other items in my wardrobe. Versatility always.
Plaid Pants are always a WIN: Leather Jacket, Gray Sweater + Plaid Pants
If you haven't noticed, I am ALL about a printed pant. I especially love when fall/winter rolls around and I can bring on the plaid in every style imaginable. Balance a tighter fitting bottom with a chunkier sweater and leather jacket to complete the look.
Casual Festive: Striped Shiny Shirt + Moto Pants/Black Jeans
When you are looking for more of a casual holiday festive vibe, opt for shine in sweaters/tees. I seriously love a dressed up casual look of this shiny striped top with the moto trousers and boots. Simple without being too boring. Living!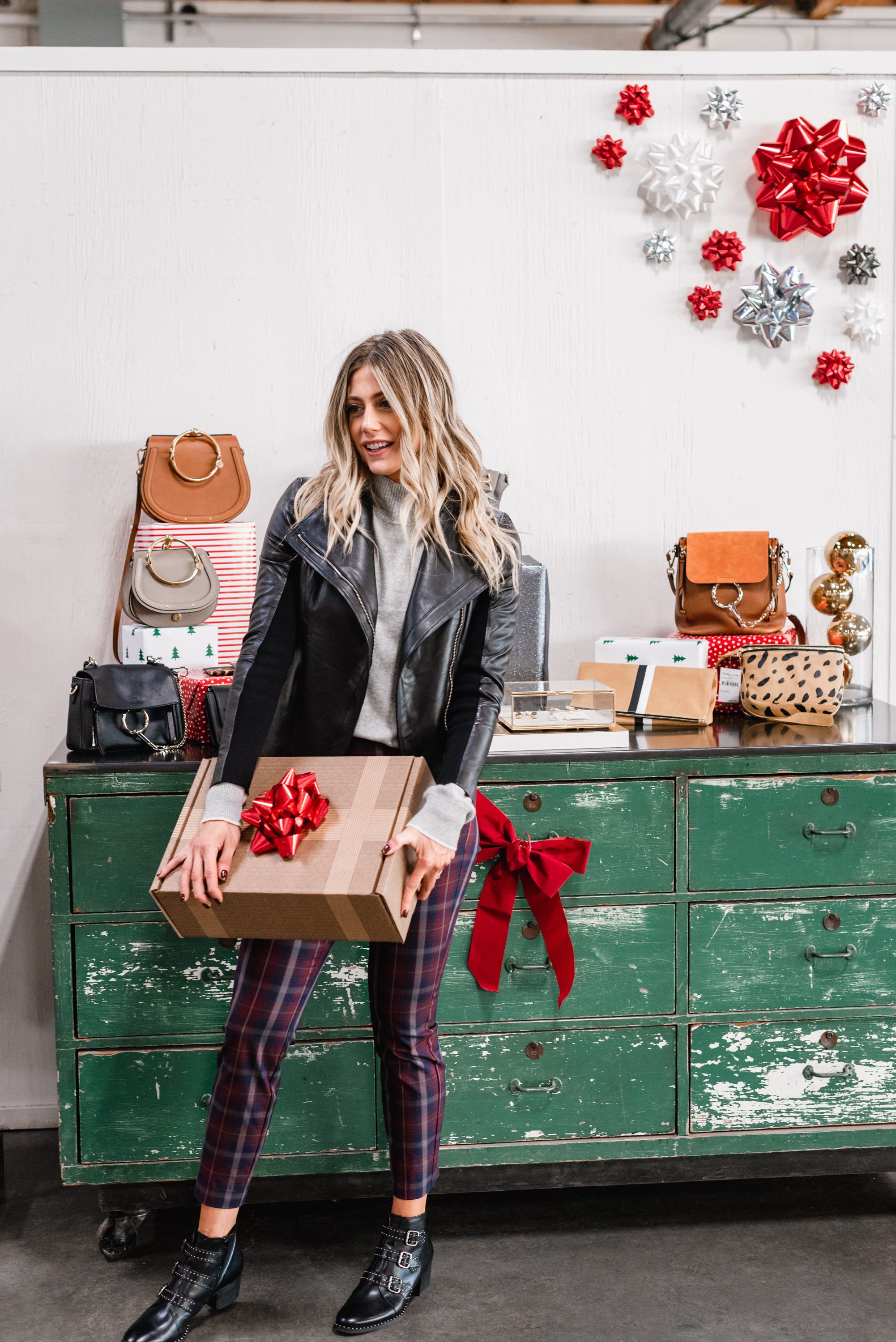 Which look is your favorite? Have you tried Trunk Club?
This post was sponsored by Trunk Club, all opinions are my own.